About Us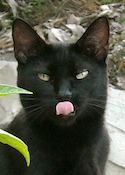 A great day for soaping as the sun rises over famous Magens Bay on St Thomas's North side.
Our small business is truly a cottage industry, literally out of a small cottage high up on the lush North side of St. Thomas in the US Virgin Islands.
Our little plantation of Moringa Oleifera trees thrives here, and their blossoms are continuously visited and enjoyed by hummingbirds, bananaquits, butterflies and bees who happily feast on their nectar... and iguanas who hang out in the branches, munch on the leaves and then happily and indiscriminately splat poop on the deck.